The Campaign for Nuclear Disarmament and the International Peace Bureau present an international conference
21st Century Security: challenges and solutions
Sunday 20th October 2019, St Thomas' Hospital, London
Thank you to all who came to the hugely successful CND-IPB international conference, to the excellent speakers and everyone who participated in our engrossing sessions.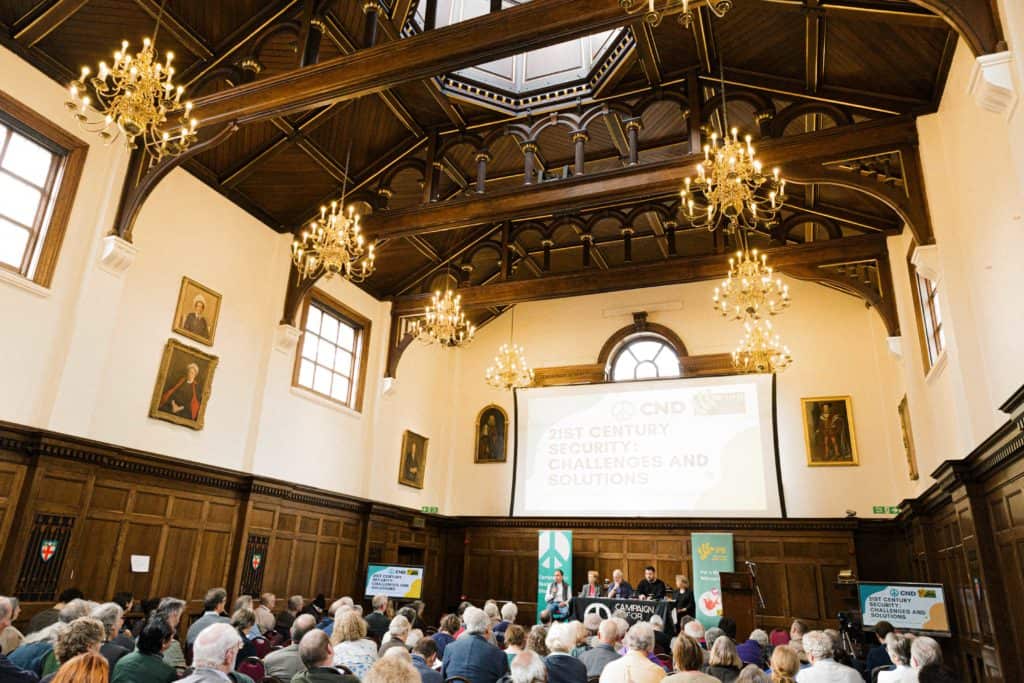 ---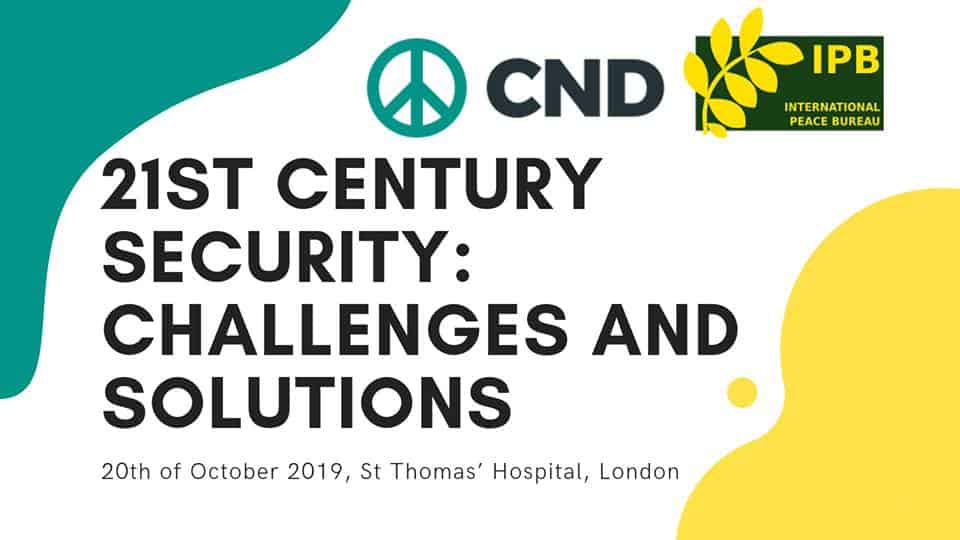 Our security and well-being are being severely challenged by climate change, the start of a new Cold War and the huge and widening gap between the 'haves' and the 'have-nots'. The systematic destruction of arms control treaties and disregard for international law by some world leaders have led to a new nuclear arms race and widespread concerns about national and global security. These problems are interlinked with a growth in the politics of nationalism, self-protection and prejudice. This meeting, jointly organised by CND and the IPB, will feature activists and experts from around the world, providing a global take on the problems we are facing.
To ensure our survival, humanity must come together, organise and cooperate on a global scale never seen before. Citizen activists of the world can show the way and modern communications technologies can help us achieve a global voice. But we must be aware of what we are facing and we must start now.
Agenda
10:30: Welcome by Bruce Kent, Vice-President, CND
10:45: Opening plenary: Understanding the key challenges
Nuclear disarmament in the Age of Trump – Kate Hudson, CND
Climate change: an existential threat – Aaron Kiely, Friends of the Earth
What does China's rise mean for the world? – Corazon Fabrios, Nuclear Weapons-Free Philippines
Does there have to be conflict with Russia? – Konstantin Semin, film-maker, Russia
Co-chairs: Arielle Denis, IPB and Dave Webb, CND
12:30-1:30 LUNCH
12:50: lunch-time fringe: 'Building links with towns and cities in the Mayors for Peace movement' with Sean Morris, NFLA
1:30-3:00 Workshops
Nuclear dangers – Joseph Gerson, AFSC, USA and Hannah Kemp Welch, CND
Climate change – Angie Zelter XR Peace and Dr Stuart Parkinson, Scientists for Global Responsibility
Resource wars – Asad Rehman, War on Want and Jenny Clegg, IPB/CND
Human rights – Lisa Clarke, IPB and Kevin Blowe, NetPol
3:00-3:15 TEA
3:15-4:30: Closing plenary: Building a different future
Philip Jennings, former General Secretary, UNI Global Union
Reiner Braun, IPB
Rieko Asato, Gensuikyo, Japan
Chair: Kate Hudson, CND