About CND Peace Education
Was President Truman justified in ordering the atomic-bombing of Japan?
What would you do if you were a world leader during a nuclear weapons crisis?
What are pressure groups, and what would yours focus on?
The Campaign for Nuclear Disarmament's education programme engages thousands of school students across England with questions like these each year. We offer a wide range of free, cross-curricular workshops and assemblies for Years 3 through to 13.
We also have five free teaching packs, which provide lesson plans to aid in enthusing students on nuclear weapons and peace issues. Our sessions and resources are highly relevant to the curriculum  in numerous subjects, including English, RE, History, Citizenship and Physics; as well as helping to meet SMSC and Prevent requirements. Our work is very highly-regarded!
Our aim is to empower students with knowledge on the hugely important and controversial issues of nuclear weapons and peace, so that they are able to come to their own conclusions. We encourage critical thinking through creative and collaborative learning methods, such as, role-playing, group presentation, debates and origami.
Read the recent blog piece about our 'Dial M for Missile' teaching pack, which uses nuclear weapons history to help students think more critically about current times.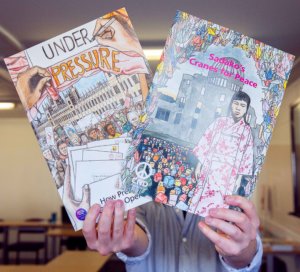 We also offer free training sessions for new teachers – and CPD for established teachers – on how to best explore controversial issues in the classroom.
And we work with extra-curricular groups, like the Scouts: