Our school workshops and assemblies are listed below. They are all free!
The sessions typically last between 50 minutes and one hour although many of the workshops would benefit from a longer time allocation if you have it. We have differentiated versions to suit different ages and abilities, and we are always happy to further tailor the sessions to match your requirements – just fill in our booking form here.
Assembly talk
An interactive talk that gives students an overview of nuclear weapons, including their history, the situation in the world today, and the arguments given for and against them. The content can be varied depending on what your students are studying. It can be standalone, or it can precede a workshop (or a series of workshops!)
The Bomb Factor
An X Factor-style nuclear weapons debate! Small groups of students prepare a performance or presentation arguing the point of view of an assigned country or organisation. They are assessed by a panel of student judges. You can see The Bomb Factor in action at a school in this Teachers TV video. The teaching pack this workshop is based on has been awarded the Quality Mark of the Association for Citizenship Teaching. We offer several other workshops from this pack, too, including 'Concepts About Conflict', and 'Peace Symbols', which you can browse and download here.
Truman on Trial
The flagship lesson from this resource sees a mock trial of President Truman hosted in the classroom, with students taking on the roles of barristers, witnesses and jurors to decide whether or not he was justified in authorising the nuclear-bombing of Hiroshima and Nagasaki. They engage with a range of primary and secondary historical sources in the preparation for the trial. The Truman On Trial teaching pack, which was a finalist in the Education Resources Awards 2018, also received accolades in a review from Teach Secondary magazine, and carries the Association for Citizenship Teaching's Quality Mark. It contains RE, History, English and Citizenship-specific lessons, which we offer workshops of. Browse and download these here.
Dial M For Missile
This pack explores nuclear weapons themes from the Cold War, and gets students to compare and contrast this learning with the world situation today. It received a fantastic review in Teach Secondary magazine. The most popular workshop from this resource is currently War Game, a decision-making strategy game which puts students in the shoes of world leaders at the time of the Cuban Missile Crisis. To browse the other workshops on offer from this pack click here.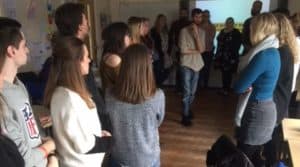 Under Pressure
Like The Bomb Factor, the teaching pack that this workshop is based on has been awarded the Quality Mark of the Association for Citizenship Teaching. The students look at examples of pressure groups, and how they operate. Then, as a group, they create their own campaign on issue where they want to see change, and present it to the class. Under Pressure explores the ins and outs of political organising. To browse this lesson plan, and the others from the pack click here.
Sadako's Peace Cranes
Students learn the story of Hiroshima victim Sadako Sasaki, a young girl who became a global symbol of peace after folding 1600 origami cranes, despite suffering from terminal leukaemia as a result of the bomb's radiation. They then make their own origami peace crane or swan. This teaching pack featured in the Teach Secondary Resource Guide 2019, where it received a glowing review. The pack's content is also applicable to KS2 students. Browse the lesson here.
The following workshops, from our latest teaching pack Critical Mass, are now available to schools and teacher training institutions. Critical Mass explores how groups with different power respond to nuclear weapons issues.
Nuclear Negotiators
Students step into the shoes of state leaders, and try to negotiate nuclear deals without losing face. This workshop focuses on gender and conflict resolution.
Greenham Common
Appropriate in different forms for Drama and English classrooms, students work with source material from the Greenham Common Women's Peace Camp to explore how identity has been used in peace-building.
The Art of Hibakusha
Students learn about the long-term impacts of nuclear weapons through the testimony of Japanese atomic bomb survivors (Hibakusha). They create their own art in response to this, and compare their creations to actual Hibakusha artwork. This workshop is for the Art/Photography classroom.
Ranger, Ranger!
A mock town meeting is held, where students take on the roles of different stakeholders who must decide on the future of Ranger Uranium Mine, North Australia, as its lease approaches expiry. They work with data, from different viewpoints and must also consider the rights of Aboriginal traditional owners of the land.
Philosophy for Children, Colleges and Communities (P4C)
CND Peace Education can facilitate a P4C session with your students, using nuclear weapons stimuli.