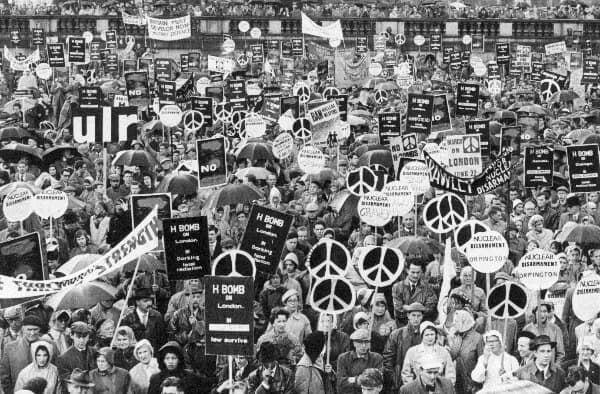 Demonstrators carry the distinctive CND placards in Trafalgar Square, 1959.
There can be no doubt that the scale of anti-nuclear protest caused anxiety within the highest government circles. This resulted in attempts to organise against CND. In March 1958, the prime minister, Harold Macmillan wrote to a member of the Cabinet thus:
'It is most important that we should find some way of organising and directing an effective campaign to counter the current agitation against this country's possession of nuclear weapons. This is a question on which the natural emotions of ordinary people would lead them to be critical of the government's policy, and to accept without question or reason the arguments which our opponents use… The question is how to…exploit the differences between those who oppose our policy.'
Efforts were made not only to round up people of standing who would speak in favour of nuclear weapons, but also to kill stories in the press and to disrupt the Aldermaston Marches.

What is The People's History of CND?
To celebrate six decades of vibrant and powerful activity, this online exhibition displays photos and memories provided by our members and supporters. They selected the photos that best symbolised a significant memory from the past 60 years. The exhibition shows photos from demonstrations, vigils and blockades; significant sites, like Greenham, Molesworth, as well as photos of artefacts, like favourite badges, banners, and knitting.