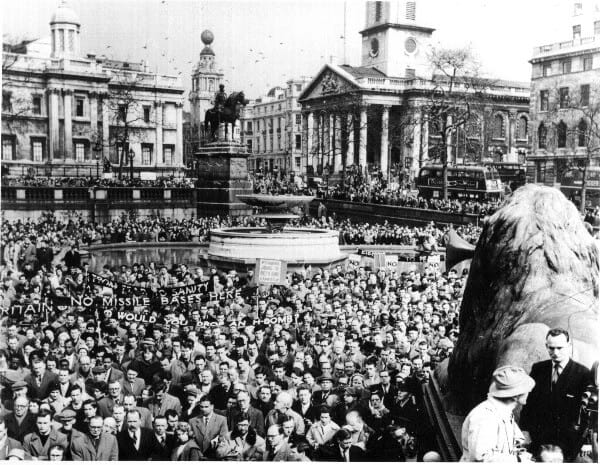 Demonstrators in Trafalgar Square before the first march in 1958
Almost 6,000 attended the send-off rally in Trafalgar Square, and around 4,000 began the 52-mile, 4-day march. Around 8,000 converged on Aldermaston on the final day, marching the last mile in silence. These numbers far exceeded the expectations of the organisers, who had thought they might get around 300.
An important mobilising group for the march was the communist-influenced British Peace Committee, which continued with a high level of activity during these years. In early 1958, it passed a resolution welcoming the formation of CND and urged its local groups to give support to the new organisation. According to John Cox, chair of CND from 1971 to 1977, this backing was one of the reasons that the turnout for the initial CND demonstrations was so much higher than the organisers expected. But the enthusiasm with which people from all walks of life flocked to the Aldermaston March was not confined to this single event alone. Hundreds of CND groups – over 450 by 1960 – sprang up around the country; mass meetings took place, demonstrations and rallies abounded and young people were involved everywhere in large numbers.

What is The People's History of CND?
To celebrate six decades of vibrant and powerful activity, this online exhibition displays photos and memories provided by our members and supporters. They selected the photos that best symbolised a significant memory from the past 60 years. The exhibition shows photos from demonstrations, vigils and blockades; significant sites, like Greenham, Molesworth, as well as photos of artefacts, like favourite badges, banners, and knitting.