A new exhibition by political artist Peter Kennard has been launched, highlighting his impressive body of work which tackles peace and justice issues.
'Photomontages of Dissent' is being exhibited by Richard Saltoun Gallery and features unique photomontages that span the course of Kennard's renowned political career, from the early 1970s to those made over the last few years. With pieces commenting on political issues from nuclear disarmament to the NHS, his work remains as relevant today as ever.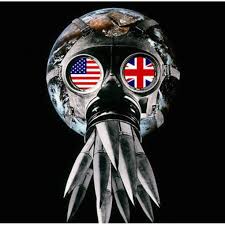 CND supporters will best know Kennard for the broken missile images he created for CND in the 1970s–80s. This is what he had to say to CND about these:
"In the 1970s I noticed that images of nuclear weapons had become completely normalised, even to the extent that a chain of poster shops were selling a heavily airbrushed, uncaptioned photo of a mushroom cloud as a glossy poster to be hung up in your home.
"I wanted to try and make images that showed the horror and madness of the nuclear arms race so I got involved with CND and tried to produce photomontages that showed that nuclear weapons were anything but normal and to make images that rendered them unacceptable. The broken missile photomontage of 1980 was based on Gerald Holtom's CND symbol of 1958. I made the montage for CND to show that it is protest by the people that can break the missiles of destruction."

(Peter Kennard at CND's Stop Trident demonstration in 2016 with a placard featuring his design)
The exhibition features Kennard in conversation with CND General Secretary Kate Hudson.
Richard Saltoun Gallery hopes to hold a physical exhibition in 2021, while the online display can be viewed until November 21st.
Photomontages of Dissent – Exhibition by Peter Kennard: View here